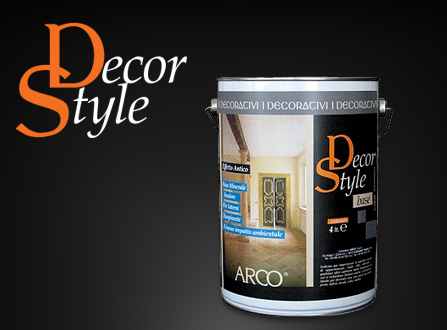 "Decor Style ARCO" is particularly indicated to enrich internal surfaces of apartments, villas, hotels because of the extraordinary beauty of its decorative effect that reminds to "poor art" of Renaissance period.
It is easy to apply and the final effect results to be refined and washability and resistance are guaranteed. "Decor Style" is a decorative coating with a particular old-fashioned effect, traspiring, multi-coloured, water-based, suitable for internal surfaces.
It is possible to apply it on different types of surface such as: wood, iron, light alloys, PVC, glass, gypsum, plasterboard, traditional and pre-mixed plasters, old coatings in good condition. It is ideal to decorate doors, casings, tables, chairs, furnitures. It is easy to apply and it has a low environmental impact and low odour so that it is possible to apply it even in small rooms. once applied, it is possible to touch it up with good results by using the same proceed as for the first application.
"Decor Style" line is composed of:
Decor Style Base (white base in lt.14 packaging)
Decor Fondo (primer water-based paint) lt. 2,5 packaging
Decor Color 80 cc. Toners – 21 colours