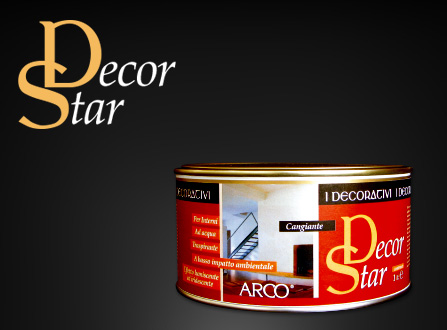 ARCO Decorative products are suitable for every style of furnishing. DECOR STAR, with its particular metalized and iridescent effects, is particularly suitable to decorate refined environments. Its extraordinary chromatic effect guarantees a prestigious and unique finishing. Its application is very easy with great results, respecting the environment. Further it is traspiring with a high resistance to washings.
It can be applied on surfaces treated with water-based paints, enamels and internal coatings and also on other products of "ARCO DECORATIVI" as DECOR CLASS, DECOR STYLE, DECOR SILK to enphasize their multi-chromatic effects.
"DECOR STAR" is transpiring but at the same time it resists to washings. It is particularly suitable to decorate internal surfaces of apartments, villas, hotels, because of its extraordinary chromatic effect. It can be also applied on wood, iron, light alloys, PVC, gypsum, plasterboard, traditional and pre-mixed plasters. It is ideal to decorate not only walls, but also doors, frames, furnitures. "DECOR STAR" has a good abrasion resistance, a good impact resistance, and a good steam-proof capability due to its formula that contains water-based copolimers, pigments free from heavy metals.