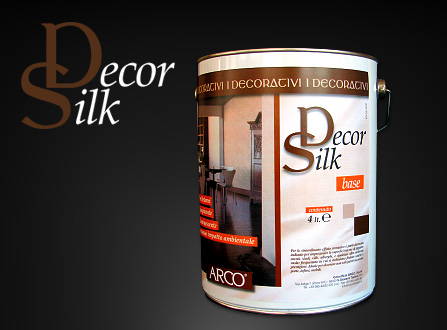 ARCO Decorative products are easily adaptable to any type of furnishing. "DECOR SILK" has a particular silk effect with luminescence reflections, and it is suitable to enhance every particular environment. It is considered extraordinary because of its particular chromatic effect.
Very easy to apply, with great refined results and respecting the environment. In fact, its formula contains water compound which guarantees high transpirability and strong resistance to washings.

"DECOR SILK" is a decoratice coating for internal surfaces, silk effect with luminescence reflexions to apply by brush/spatula. Its formula contains water co-polimers, pigments free from heavy metals, "DECOR SILK" has a good resistance to abrasion once dried, and it is also hit-proof, light-proof, and steam-proof. It is transpiring with a high resistance against washings. It is to apply and has a low environmental impact and it is odourless so that it is possible to apply it even in small closed environments. Because of its extraordinary chromatic effect, it is suitable to decorate internal surfaces of apartments, villas, hotels, and surfaces as wood, iron, light alloys, PVC, gypsum,plasterboard,traditional and pre-mixed plasters, old coatings. It is ideal to decorate not only walls, but also doors, casings, furnitures. Once applied the product can be retouched. Once dried, the film is glossy, its hardening is progressive and it doesn't need further protection. "DECOR SILK" dried film can be paintable, with water-based paints after its hardening process. "DECOR SILK" decorative system includes "DECOR SILK BASE" (mother-of pearl base, to use without any dilution), "DECOR FONDO" (primer, use only if necessary), "DECOR COLOR" (concentrated colourants). Mix "Decor Silk Base" manually with a smooth stainless steel trowel adding the desired percentage of "Decor Color".