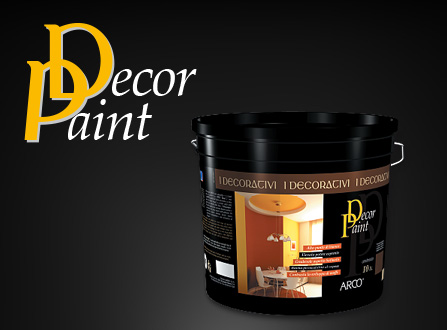 ARCO decorative products are suitable for every type of interior decoration. Decor Paint is a water based paint with a one-colour water based paint and it can be used together with other products from the Decorative line, that have other finishings.
It is easy to use respectfully with the environment. It has a very pleasant aspect, with different finishings such as glazing, glossy, mat effect and is transpirant and resistant to washings.
Decor Paint is a decorative water based paint whose formula contains a high percentage of acrylic copolimers in water emulsion, versatile, easy to use on internal surfaces only. This product can be used to paint different types of walls(traditional plasters, premixed supports, plaster based, lime based supports, lime-cement supports), previously prepared.
Easy to apply, even though it is classified as a professional product, with a low environmental impact, it can be widely used inside schools, hospitals, rooms, offices… It is particularly suitable to embellish internal surfaces of apartments, villas, hotels and wherever unique and precious finishings are requested. It is odourless, therefore it is possible to apply it also where there is not much ventilation. It has a strong resistance against washings and it has been tested that it can strongly resist against 50.000 cycles of wet abrasion(ASTM D-2486/96) and can be easily cleaned. Furthermore, Decor Paint has a good steam-proof capability, a high whitening point, its formula is free from heavy metals, light-proof capability, high coverage power, and strong resistance against bacteria.